Available now!
---
Play golf on stunning, high definition golf courses.
Relive famous golf tournaments from past and present.
Play with your favorite golfers from throughout the history of the game.
Play complete tour seasons with detailed stats.
Match up golfers from different eras to see who's best.
---
2020 Edition New Features
New terrain depiction with semi-transparent arrows. The level of transparency indicates the severity of the slope. Red arrows indicate severe slopes that the ball will not remain on. Terrain can be toggled on and off with the T key. Press G to toggle the green reading view. Clicking anywhere on the hole image when terrain is displayed hides the terrain.
Significant improvements and refinements to physics, including bounce, roll, and spin, as well as lie effects and interactions with slopes and terrain.
New knockdown shot. The knockdown has a lower trajectory with less spin and is useful in windy conditions. The carry distance of a stock knockdown shot is about 90% of a full shot.
Improved punch shot behavior, including a more accurate trajectory and rollout. Punch shots are now limited to 9-iron and longer.
Improved and increased CPU usage of punch shots, high shots, and knockdown shots.
Changes to full shot options for more realism. The spin slider was removed and replaced with a checkbox for a high spin shot, available when playing a wedge from a good fairway lie. The spin slider was often used to fine tune the shot distance by a couple clicks one way or the other, which doesn't match how and why spin is actually varied on wedge shots. Now it's more important to use the right trajectory to control spin. For example, to hit a shot that's lower, spins less, and rolls more, you could play less than full power with a longer club, or hit a knockdown shot or a draw. To get a high, spinning shot, hit it hard or play a fade. That was always true, but it's more important this year, and more satisfying with the physics improvements.
Redesigned tournament and game screens show more information in a cleaner, more intuitive layout.
Unique tournament color schemes that change the look of the tournament and gameplay screens to capture the look and feel of specific tournaments. Most modern tournaments have a color profile. Color profiles are stored in dksports-data\Golf\TournamentColors.csv.
New option for no halved (tied) matches in team events. All tied matches will replay hole 18 until a winner is determined.
New statistic for total putt distance made per round.
New strokes gained statistics for driving, approach, short game, and total. Strokes gained stats estimate how many shots per round better or worse than average a player is in each category. Each individual shot is evaluated against tour averages. For example, suppose a golfer is in the rough, 180 yards from the hole, and that the average number of shots to hole out from that lie and distance is three. If the shot is hit to a new position from which the average is 1.9 shots instead of two shots, that shot gained .1 shots against the average.
Support for png format and transparency for add-on course and tournament logos.
Improved schedule screen with logos for the tour and cup playoffs.
Option for dynamic weather in casual rounds. Weather can change throughout the round, and course conditions respond to weather. For example, rain tends to soften the course, and combinations of sun, heat, and wind will dry out the course and cause it to play firmer.
Courses are searchable in casual round setup.
The 2019-20 season, with golfer ratings updated through March 2020 includes the following schedules:
A full season schedule

A schedule with the rescheduled event dates

A schedule which uses only the 25 courses included with the game.
To import a schedule, choose Tools/Schedule/Import Schedule.
The 2020 Action! PC Golf game package includes 24 courses.
---
2020 Action! PC Golf Game Package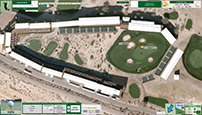 2020 Action! PC Golf Game Package

-

only

$49.00

SALE - $39.00
Includes the following:
Complete 2020 Action! PC Golf Game
2019-20 season with golfer ratings updated through March 2020. The 2019-20 season includes the following schedules:
A full season schedule
A schedule with the rescheduled event dates
A schedule which uses only the 24 courses included with the game
24 Golf Courses!
Atlanta Lake - Atlanta, GA

Austin River - Austin, TX

Boston Club - Norton, MA

Charlotte Hollow - Charlotte, NC

Connecticut Club - Cromwell, CT

Old Detroit - Detroit, MI (New)

Dublin Village - Dublin, OH

East Honolulu - Honolulu, HI

La Jolla Pines South - La Jolla, CA

Lake Chicago - Medinah, IL

Lighthouse Links - Hilton Head, SC

Magnolia Club - Augusta, GA

Memphis Club - Memphis, TN

Mexico City - Mexico City, Mexico (New)

New York Public GC - Farmingdale, NY

North Texas CC - Fort Worth, TX

Orlando Club (2014) - Orlando, FL

Pacific Beach 2019 - Pebble Beach, CA

Pacific Palisades - Pacific Palisades, CA

Palm Beach National - Palm Beach, FL

Ponte Vedra Club - Ponte Vedra, FL

Portrush Links - Portrush, NIR

Quad Cities Club - Silvis, IL

Scottsdale Club - Scottsdale, AZ
New Courses Available Separately
South Dallas Links - Dallas, TX

Puerto Rico Club - Rio Grande, Puerto Rico

Reno Forest - Reno, NV

Texas Hills - San Antonio, TX

Minneapolis Club - Blaine, MN

Old Detroit - Detroit, MI (also available in the 2020 game package)

Mexico City - Mexico City, Mexico (also available in the 2020 game package)

60s 6-Pack

Old Las Vegas Resort - Las Vegas, NV

South Portland - Portland, OR

Maracaibo - Maracaibo, Venezuela

Orlando Pines - Orlando, FL

Wilmington Cape - Wilmington, NC

Crawford County - Robinson, IL
Shop for Action! PC Products
---
About Action! PC Gol

f
Gameplay
Play rounds of golf as or against your favorite golfers from past and present. Rounds are played on championship courses using stunning, high resolution, aerial imagery. Plan your shots by choosing your club, your swing power, draw or fade, high shot or punch shot, and more. Then watch your golfer execute the shot according to his abilities with remarkable statistical accuracy. Or, take control of the swing itself with the optional three-click swing meter. Detailed course conditions make the course play differently every round. Green speed, rough length, course firmness, wind, temperature, sky condition, and elevation all must be accounted for on every shot. Conditions even change dynamically throughout tournament rounds. You can even download current real world weather conditions.
Tournaments
Play individual tournaments or complete tour seasons with detailed stat tracking. Tournaments can be created and edited to create your ideal season schedule. Major championships, playoff formats and tour championships, exhibitions, and qualifying events are all available. Control or watch any golfers during tournament rounds, or take your favorite golfer through a complete season and beyond. Detailed leaderboards, statistics, and highlights make following the latest happenings exciting and immersive.
Team Events
Team events with up to 12 players per team, can be customized for the number of sessions and participants in each, including singles match play, alternate shot, and best ball formats. Templates are included for many of the common team formats.
Match Play Tournaments
Create match play brackets with any number of golfers from four to 256, with rounds from single elimination to best of nine matches.
Final Round Scenarios
Jump right into the final round of a real-world tournament and control any golfer. Over 100 historical scenarios are built in, including the final round leaderboard and course conditions. It's easy to create your own scenarios, too.
Team Rounds
This unique format has two teams face off against each other in a single round, where a different team member hits each shot. The rules can be customized in many ways. For example, you can set a lineup order of golfers, or pick a golfer for each shot. Optionally seet a limit on the number of times a single golfer can be used. This format provides a level of managerial strategy you likely haven't seen before in golf. Stats and standings are kept for these matchups.
Statistics
Even when golfers are computer controlled and "autoplayed," the shots are played out in the same level of detail as your human controlled golfers. The game AI must make the same decisions, and is subject to the same considerations. Detailed statistics are tracked including world rankings, cup points, money, and more. All standard statistics like driving accuracy and greens in regulation are kept, as well as more detailed stats like proximity to the hole from various distances, putting by distance, three putt streaks, and more. Results from past tournaments can also be viewed from each player form. Click the event name to view the leaderboard, click a score to view the scorecard, and click a hole to view shot by shot results for that hole. Hole by hole course stats are also compiled for every tournament round. Additionally, all time and season records are kept, as well as replays of great shots hit by computer or human golfers. These replays can be searched and sorted. Want to find the replays for every hole in one on your tour? How about the longest hole-out made, or every great shot on a certain par three?
Season Tools
Action! PC Golf includes tools for creating and editing golfer and seasons. All ratings and attributes can be customized. Golfers can also be imported between seasons to set up cross-era matchups.
Courses
Courses use high resolution aerial imagery, or our own graphical style. Additional layouts can be created and customized, including tee and pin locations, and par. It's also possible to create new courses using holes from existing courses. Visit our shop to view our extensive and growing list of available courses!
Add-ons and Modifications
Action PC Golf is able to be enhanced and modified in a number of ways, and our user community has done some great work. Check out the forums for user mods including photos, logos, flags, hole pictures, and even complete golf courses!
Shop for Action! PC Products